Considerations for first time buyers
A common thread runs through the conversation with first time buyers. Getting on the property ladder is hard. Aside from the financial implications, it can also be incredibly daunting.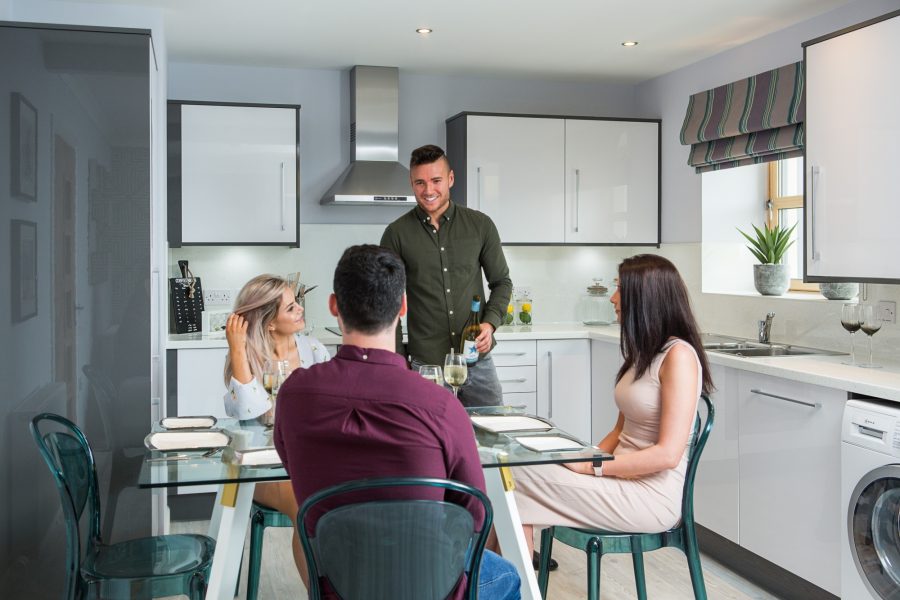 First time buyers are bombarded with offers and incentives – each one more exciting and eye-catching than the last.

It can give those first time buyers a variety of options, but can also lead to a lot of confusion – an element that should definitely be avoided when making the biggest investment most people will ever make.

At Malcolm Allan Housebuilders, we build homes for a whole range of clients including first time buyers and understand that making the buying process as simple as possible is key. We've put together a few things that first time buyers, or any other buyer, should consider and why a Malcolm Allan home meets all these needs.

The spend

Buying your first home is an expensive process with a lot of different elements to consider. From solicitor fees to your deposit, it can be a lot to think about. That is why we are proud to
take one cost off your list and offer our homes with no reservation fee. We will gladly reserve a home for you as you go through the mortgage process so that you can save it for the more important things.
The value of your home
Since it's your first home, it can be tempting to "sort by low to high" and go with the cheapest option available. Though in the short term this saves you money, in the long term this may do exactly the opposite. Our lives change all the time and what was once a home that was the perfect size, can suddenly feel cramped and unfit for purpose leading to the subsequent purchase of a new home, and even more spend to make that happen.
At Malcolm Allan Housebuilders, our core aim is to build high quality homes that provide the best value for money. From our expansive floor areas that are cheaper by the square metre compared with competitors, to the "extras" that we include as standard in each home, you can be sure that a Malcolm Allan home will continue to fit around your life for years to come. A welcome thought when you consider how expensive and stressful it can be to move in the first place.
Included as standard
When you're already making a large financial commitment in buying a home, the last thing you want to think about is a long list of additional extras that you'll need to get started. All Malcolm Allan Homes come with fitted wardrobes; high- specification Neff appliances including oven, hood, fridge/ freezer, dishwasher and hob; and we can even include LBTT paid and flooring packages on a large number of our homes including our Hallforest Collection at Lochter. These small touches can be the difference between walking into an empty shell of house and being able to start enjoying living in your home.
Customisation
Everyone's taste is unique and what works for one, may not work for another. Looking at new build starter homes, it can feel like you're buying into a development of one-size-fits-all homes which lack the flourishes that make each home different. At a base level, our team works incredibly hard on each Malcolm Allan Housebuilders development to ensure that our house types are diverse and wide-ranging.
From bungalows to four bedroom detached homes, we have houses to suit everyone and each one is specifically designed to include features and touches that are unique to that house type. And if you want to put your own stamp on your property, we offer an extensive customisation service which can include small touches such as preferred power socket and aerial point positions, or larger ones like moving internal doors or walls to create even more space.
Location, location, location
There's no doubt that location is important and one of the top priorities when it comes to buying a home. There are various elements to think about. How long will it take to get to work in the morning? Where is the nearest supermarket? Which schools are nearby and are they within walking distance? Our team takes these questions very seriously and both Malcolm Allan developments in Inverurie are ideally positioned to give the best possible location. Both our Westgate South and Lochter developments benefit from direct and easy access to the busy town centre. Transport links are conveniently located making your commute less troublesome. For those with young families or considering starting a family, primary and secondary schools are just a short distance away.
Our Hallforest Collection, available at Westgate South and Lochter, comprises 2, 3 and 4 bedroom homes starting at just £190,000. These homes are perfect for those who are looking
to take their first step on the property ladder while ensuring they have a home that will satisfy their individual needs for the foreseeable future.